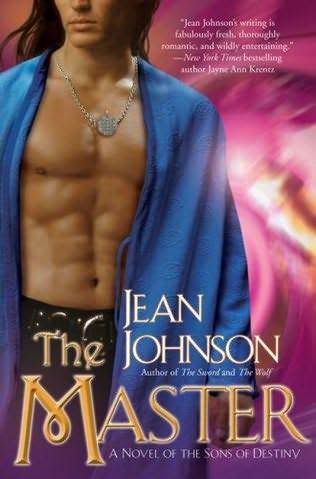 The Third of Sons shall meet his match:
Strong of will and strong of mind
You seek she who is your kind
Set your trap and be your fate
When Lady is the Master's mate
Eight mage-brothers who were born in four sets of twins, all on the same day two years apart each time, are known as the Sons of Destiny. They fulfil the Curse of the Eight Prophecies, written by the seer Draganna over a thousand years ago. They were exciled by the Council of Mages of Katan to Nightfall Isle to prevent the fulfilment of the eight prophecies. But now with two fulfilled prophecies and the fourth already on it's way, the thirdborn of the eight mage brothers stands not the ghost of a chance to get away from his destiny.
Lady Serina, a great mage and obsessed mathematician, cannot believe her luck when she, by chance sees Dominor at the slave market. He is the answer to all her prayers, she needs a powerful mage from abroad to participate in a mating ritual to undo a permanent spell that was cast long ago. To secure his co-operation she conveniently conceals a major detail of this ritual. She is sure he is competent and powerful enough to perform this mating ritual with her and of course it doesn't hurt that she is attracted to this very tall, handsome, sexy stranger. But what will he do if he ever finds out the whole truth?
Taken captive and far away from his home Nightfall Isle, Dominor is sold as a slave at a slave market. His humiliation is complete. The beautiful Lady Serena buys him and offers him a deal, he is to aid her in a mating ritual in exchange for his freedom and powers. As an arrogant and dominant male he wants to be in control of his own life again so he agrees, but he cannot help feeling that this beautiful, clever Lady has not told him the whole truth about this mating ritual. He also cannot shake the feeling that she might be destined to be his wife. Has he finally met his match?
This story is mainly about Serina and Dominor. Dom is truly an alpha male, handsome, sexy, arrogant, very competitive and all alone in a strange place that is called Natallia. Serina is very obsessed with her work, so obsessed that she forgets she has a social life as well. When she gets angry or upset she throws vases through her workroom. They are very different and at the same time very alike, Dom has finally met his intellectual equal and it turns him on. Their attraction just vibrates from the pages.
As the story develops further you see how Dom doesn't feel the need anymore to compete with her all the time, he feels content with managing her life and just to be in it. Misunderstandings tear them apart, leaving them both alone to deal with their inner turmoil. I really felt for them, they are adoring characters.
Dom to Serina:
"Put yourself in my hands," he promised her, "and I will give you pleasures untold."
Serina to Dom:
"Stop teasing me, Dominor, and start pleasing me!"
In this volume of the Sons of Destiny Jean Johnson takes a whole new direction with her plot. The magical world gets explored much more in depth, she shows us how magic influences daily life and what happens when one cast a spell thoughtlessly. At the same time she gives us subtle clues on plots still to come in future installments. Slowly you see the development of a larger plot that probably has it's grand finale at the end of this series and how every character introduced to us, each in his or her own way, plays a part in it. Little by little all the pieces come together. For instance it turns out that Rydan, the gorgeous sexy, brooding sixthborn brother, already knows Serina and has a few other secrets of his own. I really like to know how powerful he really is, there is so much more to him than meets the eye!
So with this book Jean Johnson once again proves that she has a vivid imagination. She has created a perfect blend of romance, magic, destined mates and a touch of history. I love it! I have devoured every page as if it was the last one of the book. So far these series is a fantastic enthralling read and I cannot wait to read Evanor's story!
Jean Johnson keeps you riveted to your couch with her new book!
4 stars