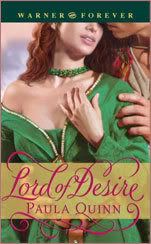 A fierce warrior determined not to lose his heart again and a headstrong lady persistent to win his heart, let the battle begin...

Once he was called "The Passionate", but nowadays lord Brand Risande has not a passionate bone left in his body. Betrayed and hurt by the one woman he loved with all his heart, Brand has vowed to never ever love again. Now this ruthless warrior is claiming the land he legally won in battle from lord Richard Dumont, but he can only posses the land if he marries Brynna, the daughter of lord Dumont. Reluctantly he accepts that he has to marry her, but he vows to never ever love her. Yet the second he set his eyes on the beautiful and headstrong Brynna he knows he is in trouble and has to stay calm and collected no matter what.
Lady Brynna Dumont is furious when she finds out she has to marry this total stranger that defeated her father in battle, but she loves her people and her land with heart and soul so she agrees to marry this feral warrior. She is highly surprised when she discovers that the savage man she has to marry is the same passionate man she once spied on and secretly fell in love with. But the man in front of her does not even posses a heart, he is as cold as ice. Determined and stubborn as Brynna is, she decides to fight and win his affection, but is it not labour lost to battle for Brand's heart when it was taken long ago by another woman?
From the first chapter this book kept me riveted to my sofa, I could not put it down and I finished it in one sitting with a big smile on my face. You don't get to read a story like this every day and it swept me of my feet. With her debut novel Paula Quinn throws you back in time to the year 1065 AD, with a great eye for historical detail she has captured a medieval England that only adds to the overall authenticity of the book. This lady certainly has done her research.
In Brand Risande, Paula Quinn has created a charming, handsome but complex hero, one that has to deal with his broken heart, lives by his code of honour and values loyalty above anything else. Your heart just cries out for him. Brynna Dumont is a beautiful headstrong persistent heroine that speaks her mind, a heroine who will not settle for a marriage of convenience. You will sympathise with her struggle to capture Brand's heart that seems to be impossible.
The supporting cast of charming characters are deeply passionate and profound. You will be intrigued by Brand's brother Dante, he is one sexy rogue and you will see him again in part two of this trilogy. William is this boorish guy you just have to love and then there is this person I hated instantly, need I say more? The dialogues are witty, full of humour and leap off the pages, especially the ones between Brand and Brynna are sensual and interlaced with passion. Paula Quinn writes so vivid, so intense that you completely forget the world around you and only want to read more of these engaging characters she has created.
Brynna to Brand and vice versa:
"I am not leaving Avarloch, of that you can be sure. And if ignoring you does not work, I could just kill you in your bed."

"That sounds very tempting."

With her debut novel Lord of Desire Paula Quinn has delivered the perfect fast paced medieval story. It is masterfully written and researched with characters of debt. This story will grab you and hold you tight in your seat to the very last page! I am looking forward to read Paula's Quinn next novel, because this one left me breathless!
4,5 stars