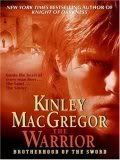 His father had trained him for the job, to be a warrior, to trust no one, to show no mercy, to lead his clan heartless and to never ever love anyone, they all suffered under his father's reign and he vowed to himself to never ever become like his father...
Now as laird, Lochlan MacAllister has devoted his life to his clan, he takes care of his people and his land and expects nothing in return. But when he discovers proof that his younger brother Kieran might still be alive, while they all thought he was dead, he sets out on a journey to find the truth. His eye is fixed upon his quest until he runs across Catarina, she is in trouble and honourable as he is, he helps her out. Against his better judgement he lets her travel with him to keep her safe, so now he is stuck with her for the rest of his journey, he thinks her a hellion and that her middle name is trouble and of course they have absolutely nothing in comment, but is it really such a burden to be around Cat when it is so obvious that opposites do attract ...
All Catarina desires is to be free to live her life the way she wants, but as an illegitimate child of the King of France she is not free to choose anything, not even the colour of her dress. To avoid a forced marriage she runs away, straight into the arms of the one man she can't stand, Lochlan MacAllister. To stay beyond the reach of her father and his men she has to join forces with Lochlan and she offers her help and connections to find his brother Kieran. The more time they spend in each other's company the more Catarina realises that he is nothing like any man she has ever met before, he treats her with respect, he is gentle and kind and even quite handsome when he smiles...
I was anxiously awaiting this final part in the MacAllister series, I wanted to know if Kinley MacGregor would end this series with a bang, but it soon became clear that she had other plans for Lochlan's story, she convenient interlaced the MacAllisters with the Brotherhood of the Sword series and therefore needed no grand finale for the MacAllisters. So curious if she could pen down another great part in this series I started to read and devour page after page.
It felt like coming home, MacGregor's writing skill certainly provides you with enough historical details to picture a vivid medieval scenery and this story certainly has the same vibe as the other parts in this series. As always the story sparkles with wit, humour and sensual passion, MacGregor always uses these features in her own characteristic manner, the wit and humour are so unmistakable MacGregor's and this never fails to make me smile.
The hero and heroine are as always divine. Catarina is a pleasingly, spirited woman who speaks her mind, she is rebellious, self-willed and she wants to enjoy her life as much as possible. Lochlan is this great tormented warrior who has to deal with his inner turmoil thanks to his father, all he wants is to find happiness and start a family. Their encounters are so dynamic, so sensual and full of passion that they make you feel all warm and fuzzy. The supporting cast of family and friends is charming and contributes to the wit and humour in this story. We also meet Stryder again, the hero of A Dark Champion, and that is as always a pleasure!
But the one thing in this story that is vexing is the plot, it is just to meagre. The quest to find out what has happened to Kieran is way to simple, it is even predictable. MacGregor's effort to interlace the two series together appears to be at the expense of Lochlan's story. Even the surprise at the very end cannot change that, it is a funny twist but it doesn't add anything to the story, moreover, it only raises more questions, questions that most likely will not be answered and that is frustrating.
Nevertheless, The Warrior is another fast paced medieval story that you will enjoy reading and it will make you smile! It is a nice blend of sensual romance, trust, loyalty, humour and a quest for the truth in more ways then one. Lochlan is most definitely worthy of your time and I am readily looking forward to read the next story in the Brotherhood of the Sword series!
3 stars