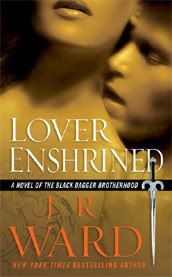 Fiercely loyal to the Black Dagger Brotherhood, Phury has sacrificed himself for the good of the race, becoming the male responsible for keeping the Brotherhood's bloodlines alive. As Primale of the Chosen, he is to father the sons and daughters who will ensure that the traditions of the race survive and that there are warriors to fight those who want all vampires extinguished.

As his first mate, the Chosen Cormia wants to win not only his body but his heart for herself-she sees the emotionally scarred male behind all his noble responsibility. But while the war with the Lessening Society grows more grim, and tragedy looms over the Brotherhood's mansion, Phury must decide between duty and love.

Lover Enshrined is the sixth part of the Black Dagger Brotherhood Series (BDB) and features my favorite BDB warrior, Phury. It was a long wait after Lover Unbound so the minute I had the book in my hands I plunged right into it, only to rise to the surface to eat and breathe. Miss Ward is a gifted writer because so far she has always been able to bring about a BDB fever every time a new part of this series was about to hit the shelves.
Since the fourth part of this series, Lover Revealed, Ward has taken a different road with her stories, less romance, more plotlines and action. Lover Enshrined confirms that Ward continues to travel down this road. Lover Enshrined basically has several different plotlines and in this book she constantly switches between these plotlines which made it difficult to immerse completely into the story.
So what is it about Miss Ward's stories that keep millions of romance readers utterly spellbound? It is that special BDB vibe, the interactions between those sexy warriors, the rituals, the ceremonies and the romance with their heroines. This is exactly where the shoe pinches. In this story, that for a big part takes place in the Mansion, you would expect lots of BDB interactions, well just as in Lover Unbound you're craving for this vibe but will not be satisfied, only at the very end of the book do we see some brotherly interactions and can we feel that vibe again.
Phury is the hero in this story, he has to deal with his own paltry past and his guilt towards his twin, Zsadist. He is always sacrificing himself for the others, he is emotionally tormented by all this. Then there is this Primale business to consider and his celibacy, he is on this downward spiral and is completely lost. Towards the end of the story he is outlined as a junkie and although he makes a strong recovery and finally finds inner peace, I cannot help but feel he was wronged by the Warden, for the other Brothers completely turn their backs on him. I thought this was entirely out of character for everything the Brotherhood stands for.
Cormia is this sweet young lady, but she really is unworldly. She has no clue to how the world works, she only knows the world of the Chosen. Being a Chosen one is not really her thing, throughout this story, just as Phury, she finds out who she really is. The attraction between Phury and Cormia is nice but certainly not spectacular, their romance was just not explored in depth and the love scenes lacked intensity. However, I do like the twist Ward has given to the Primale plotline, it certainly showed that Phury has great leadership within him.
What keeps this story interesting are the different plotlines with all these secondary characters. The plotline with John Matthew, Quinn and Blay pulls at all your heartstrings and gives you a little of that BDB vibe you so crave for. Rhevenge's plotline is interesting and the war with the Lessers and the Omega gets so much more intense, for the Omega plays out his master card which means a whole lot of problems for the Brotherhood. Also, Lassiter finally makes his attendance, now that particular male is going to be trouble with a capital T. Ward has done an outstanding job with the plotlines and she leaves you guessing what will going to happen in the next parts of this series.
But with all these interesting and emotional gripping plotlines going on, you can't shake the feeling that the romance between Phury and Cormia is completely snowed under. The balance between the romance and the other plotlines has completely been thrown out the window, you do not get connected with Phury and Cormia as a couple, simply because they did not get enough pages in the book to tell their romance.
So we can say for sure that Ward has taken a different road with the last two parts of this series, Lover Enshrined confirms this. The road she travels now will not lead back to that special BDB vibe we have come to know and crave. This story will certainly leave you with mixed feelings, we will just have to except that the romance part plays second fiddle as of now and move on. Needless to say that Ward excels at writing superb plotlines with a twist. I am eager to read what the future will bring for the Black Dagger Brotherhood, only time will tell.
3 stars