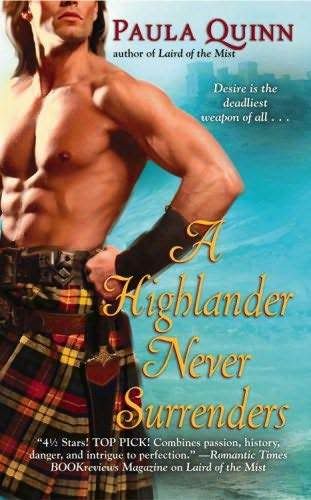 This is an advanced readers copy review, the release date for Paula Quinn's new and hot book is July 29, 2008!
Graham Grant is the first commander of the MacGregor clan. He is a skilled warrior and a real rogue, in his opinion lasses are for caressing, bedding and leaving. He accompanies his friend Robert Campbell, who has to find the elusive rebel Connor Stuart. Instead of Connor they find his sister Claire, she is on a fool's mission to save her sister. Graham wants to help Claire, but helping her is dangerous and it could mean committing treason. The hunter and rogue in Graham crave for her surrender, only Claire seems to be immune to his seductive smiles. The more she fights him the more he wants her and soon he realizes that he may be the one that has to surrender, but he can never claim her for she belongs to another man...
Claire Stuart is determined to save her sister and herself from forced marriages. The man who holds her sister is her sworn enemy and the warrior in her wants to kill him. Even if it means she has to walk straight into the lion's den. Then she meets Graham, he appreciates her skills with a sword but will not allow her to continue with her dangerous plan before they know all the facts. She tries to escape him more than once, and as he sees through her every move he tears down the walls around her heart. Nevertheless, she will not submit to any man and Graham cannot give her what she wants most from him, for a Highlander never surrenders…
While reading the fabulous Laird of the Mist by Paula Quinn the sexy warrior Graham Grant caught my eye. I was eager to find out what kind of woman it would take to capture the heart of this dazzling rogue. So when A Highlander Never Surrenders fell on my doormat I immediately plunged in the story, as always Paula Quinn did not fail to deliver a tale that urges you to flip the pages faster and faster. This heart-rendering story is captivating from the beginning up to the end!
A Highlander Never Surrenders is the second part in the Mist Trilogy and it takes off a couple of years after part one, The Laird of the Mist. The one thing I perceived immediately is the different vibe of this story in comparison with former Paula Quinn stories. Not only is this story steeped so much more with historical details, it is also set against the backdrop of a political unstable and revolting Scotland and has a political storyline. Paula Quinn blends this with well-rounded characters and a fierce and sensual romance, balancing the stunning plot and romance perfectly.
Graham is the hero of this story, he is a warrior to the backbone and he knows no fear for death. He is a sinful creature who firmly believes that there is no place in a warrior's life for a wife. His heart has never been touched till he meets Claire, but he does not know how to deal with all these unfamiliar and new emotions. Now his heart is torn in two, for he can't have Claire without committing treason and he has to choose between his duty and love.
Claire is not the average heroine, she is a trained and skilled warrior and has to stand her ground in a man's world. She has a hard time combining her femininity with her sword, she has yet to find a man besides her brother who accepts her just as she is. She is also dedicated to her family and the royalist rebellion and does not take orders very well.
Paula Quinn has the writing abilities to make her characters come alive and to create dazzling interactions. She paints a very vivid picture in your mind's eye, the emotions roar from the pages and you can feel the tension between Graham and Claire develop from a single spark to an all consuming fire that cannot be extinguished. You will fall in love with this dynamic couple for they are so easy to connect with.
An important secondary character is Robert Campbell, he is Graham's best friend and a true knight, he is always defending someone's honor. He is excellent with a sword but not so good with his fists, therefore he is always in trouble, the witty banter between Robert and Graham is hilarious. You also get introduced to the other Stuarts, Claire's brother and sister. Connor is elusive and mysterious and Anne is beautiful, very feminine, smart and the complete opposite of Claire. All these lovely characters are well-drawn, they enrich the story and guarantee a warm, fast-paced and delightful read.
Once again Paula Quinn knows how to stir together all the right ingredients to create a superb, perfect, medieval story. A Highlander Never Surrenders is packed with endearing characters, history, passion and danger. Satisfying from the first to the last page, this story will leave you hungry for more!
This breathtaking story is another winner from the talented pen of Paula Quinn!
4,5 stars