"They are called Feral Warriors – an elite band of immortals who can change shape at will. Sworn to rid the world of evil, consumed by sorcery and seduction, their wild natures are primed for release…"
I can't even remember where I first discovered Pamela Palmer's Feral Warrior series. I must have read about it somewhere when I was blog hopping, I read an excerpt and she totally had me hook, line and sinker. Since the first three books were going to be released back-to-back I knew I had a lot to look forward to if this series could grab my attention. I took Desire Untamed with me on holiday to the South of France and read it at the side of the swimming pool while enjoying a typical but incredible French view of a valley full of wine ranks. But this incredible view soon lost my interest the moment I opened Desire Untamed.
What can I say? This book really took me by surprise. Right from the start it is packed to the rafters with fast-paced action, a strong and adorable heroine, a hot feral warrior leader and his eight fellow feral warriors, all hot and sexy as well. Well, if those guys don't grab your attention from page one, the story certainly will. This story is one addictive read! Pamela Palmer's writing is fluent, it possesses a certain easiness that lures you easy and willingly into this new world she has created. Her writing even reminds me a bit of Kenyon's style.
Already I can hear the cynic book-addict think. Another band of warriors, another world to save, read it all yet. But in my opinion Pamela Palmer has succeeded in creating a whole new world that stands out in the crowd of the many paranormal reads. The days that only Kenyon and Ward dominated the paranormal genre are behind us. Lots of others have tried to follow in their footsteps, but we had a tsunami of paranormal series and the reader got submerged. But still some writers have come up with incredible new paranormal series that stand out in the crowd. I think that Pamela Palmer has created a new world that is new and exciting, it will certainly appeal to many readers.
This story starts in the kitchen of Kara McAllister, a vibrant but average woman of 27. She takes care of her terminally ill mother. Then this Lyon guy walks in claiming that she is their chosen one and that she isn't human. A series of events take place in one night, Kara's mother dies and she is attacked by strange creatures, Lyon saves her. Kara has but one choice, to trust Lyon and go with him for he is the only one who can keep her save. She now has to embrace a new life and a complete different world full of rituals she is not prepared for.
The Therian race is similar to the human race except that they are immortals and they have enemies. Nature channels its energy through the chosen one, also called the Radiant, to the guardians, the Feral Warriors. This enables the warriors to hunt down the Daemon remnants, called the Draden, who snuff the life from Therians and humans alike. The warriors also protect the chosen one. Kara has to live in the same house as the nine warriors and it does not take her long to figure out that those nine men are shape shifters. Lyon has not told her the whole truth because Kara still thinks very much like a human and she has to come to grip with her new status in life but this of course does not happen without a fight.
Immediately there is this strong attraction between Lyon and Kara. As the chosen one she is mated to one of the feral warriors, the Pairing Ceremony points out Kara's mate. Of course the ritual does not go as Kara had hoped and this is where all the trouble starts. Some old evil has come back to haunt the feral warriors and threatens the Therian race. Kara is right in the middle of things. Lyon wants to help her but it is not his place to do so therefore he has this inner battle going on, the beast in him roars to protect her with his life. The man in him has a duty to do as leader of the warriors. But passion and raw desire lead the heart of the man as well as the beast and soon they have to battle this ancient evil for their survival depends on it as well as their untamed desire for one another.
So Lyon is this huge, tall man with broad shoulders and thick, bulging biceps. He has tawny hair that hangs in waves to his shoulders and has amber-colored eyes. He is fierce, loyal, bound by honor and dutiful. It is easy to figure out what animal lives inside of him. Kara is an average looking, blond woman who always have felt a bit different than others. She is headstrong, feisty and courageous. The relationship between Kara and Lyon starts with a bang. There is no slow beginning; their attraction is instant, like it was meant to be. Their interactions are intense, hot and steamy. The raw, animal-like attraction radiates from the pages. Their sex is rough and untamed, but also full of passion, tenderness and emotions.
Because Kara believed she was human up to the moment she met Lyon, Lyon has to explain everything about his world to her. So as a reader I got introduced to Pamela Palmer's new world step by step and was not overwhelmed with lots of information and details all at once. At first I had some trouble with the pace in the first half of the book, everything happened so fast and Kara had to deal with so many things at once that some of them were hard to believe, like the way Kara dealt with her mother's death. I found that part very annoying. But once Kara arrives at the Feral Warriors house everything falls into place, the pace and story are more in balance then.
At the house I got introduced to all the warriors, they all have their own character and Pamela Palmer did an excellent job in interlacing the animal side of these warriors into their characters. They all have their own history, but they all are loyal to their duty. With a unique vibe they fill the pages with their interactions, snappy retorts and hilarious humour. It will be fun to read how they will fall for their mate, if they fall at all of course.
So the only problem I had with this story is that it really feels like an introduction part. The plot is intriguing and promises lots of action, turns and twists for the future. We get to know the world and the main characters, those sexy warriors. But while the focus is on the story I felt that Lyon and Kara got the short end of the stick. Their characters felt a bit flat, they were not as rounded as I wanted them to be.
But Pamela Palmer did lure me into her new world and her warriors enticed me to read on in this series for the plot is exciting and those warriors are hot from the first to the last page!
So far there are three books in this series: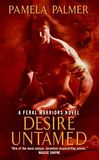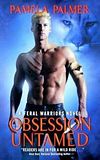 Giveaway
I thought it would be fun to give away one of the books in this series. So if you would like to meet those sexy warriors (Lyon, Tighe, Paenther, Jag, Kougar, Hawke, Wulfe, Vhyper and Foxx), all you have to do is leave a comment at this blogpost, if necessary your contact info and what part in this series you would like to receive. One lucky winner will receive a copy, it will be send to you via The Book Depository Store. Winner will be announced wednesday 2 september 2009. This contest is open for both European residents and non European residents.