As some of my blogfriends know, Paula Quinn is one of my favorite historical romance authors! I fell in love with her writing and the way she portrays her main characters, the romance and the action. With every book she has penned down the ultimate medieval hero, exactly the way I like them. Paula also has an pechant for writing hot scenes that always involve water, a lake, the sea etc., you can find these scenes in every one of her stories (five so far) and I love those scenes. It was/is a long wait since Paula's latest book was released in 2008, but her new book, yay!, Ravished By A Highlander will be released on April 27, 2010. And yes, I already hit the pre-order button! This will be the first book in her new series Children of the Mist, here is the blurb:



FORBIDDEN LOVE

Davina Montgomery is no ordinary English lady. For her own protection, she's been locked away from society, her true identity the Crown's most closely guarded secret. Until a shocking betrayal—and a bold rescue—land her in the arms of a fierce Highlander, a powerful warrior whose searing gaze and tantalizing touch awaken her body and soul.

UNDENIABLE DESIRE

As the firstborn son of a powerful Scottish laird, Robert MacGregor has no loyalty to the English throne, but he's not the kind of man to leave a woman in distress, even if she is English. He vows to deliver Davina to safety, unharmed and untouched. Yet one stolen kiss leaves them both smoldering with desire… and desperate for more. With Davina's secret threatening to destroy his clan, Rob must choose between everything he holds dear and the one woman he can't live without.

Series: Children of the Mist (book 1)
Releasedate: 27 april 2010
Publisher: Forever
Genre: Historical (Medieval) Romance
ISBN: 978-0446552387

Yes this blurb definitely is raising my bloodpressure and I can't wait to get my greedy hands on this one!

The Children of the Mist will be about the children of two couples we have already met before, Callum and Kate from Laird of the Mist and Graham and Claire from A Highlander Never Surrenders. Robert MacGregor is the son of Callum and Kate, the heroes from Laird of the Mist. This is one of my favorite books, I still swoon when I think of Callum and Graham...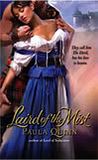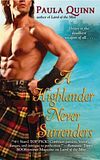 My reviews of her previous books:
Laird Of The Mist
A Highlander Never Surrenders
Paula also wrote the Risande trilogy, this trilogy made me fall in love with her writing in the first place.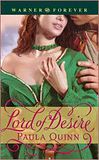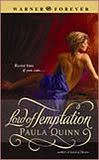 My reviews of Brand, Dante and Gareth:
Lord Of Desire
Lord Of Temptation
Lord Of Seduction
Anyway, I will be counting down the days till the release of Ravished By A Highlander and if Robert is even half as yummy as his father Callum is then we will be swooning over another sexy MacGregor!
To visit Paula Quinn's website, click
here
.
Who is your favorite historical romance writer?